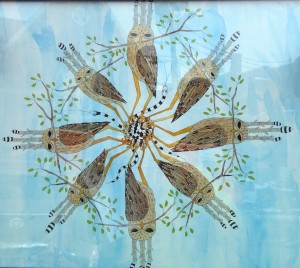 I am delighted to have a few pieces out and about in the world this April. The piece above – Forest Owls – will be at Second Street Gallery for April and will be for sale in their art auction later in the month. (Sorry for the reflection in the glass but, if I admit it, I quite like the effect!) Open for First Friday.
These two pieces, a footless booby and a blinged out albatross, and several others, will be in the Art Meets Ecology show at McGuffey in April. Check out the ambitious goal of having images of the 267 species impacted by plastics in the marine environment. Should be very interesting! Open for First Friday.
Hope to see you there!